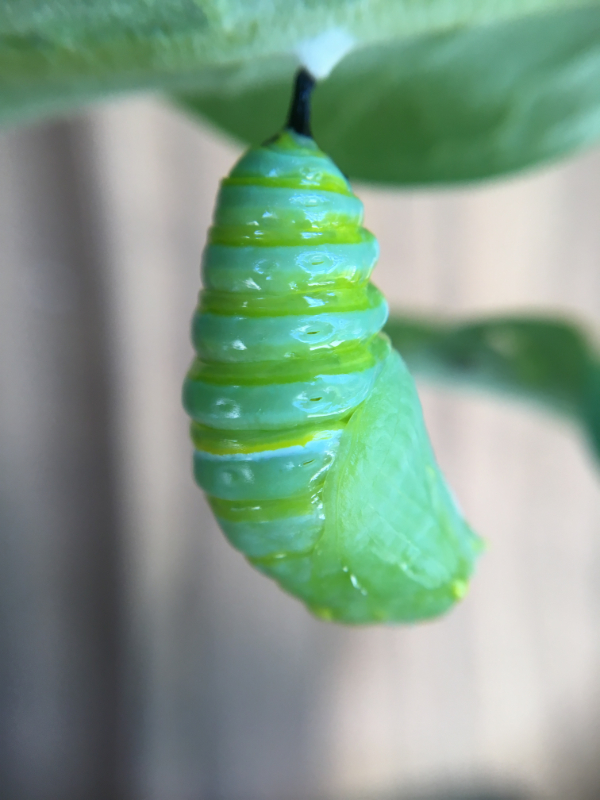 Have you ever gone through a period in your life that was confusing, when you didn't know what God was doing or why God was working in your life the way He was? We may be able to gain some insight and encouragement by looking at the chrysalis, the intermediate stage between the caterpillar and butterfly. The caterpillar certainly doesn't know what is happening when it enters the chrysalis stage. Inside the chrysalis digestive juices break the caterpillar's body down into a liquid suspension of cells and pieces of tissue that don't at all resemble the body of the caterpillar. The caterpillar's DNA then provides the information for its restructuring into a beautiful butterfly.
There are times when God needs to do a great work of transformation in our lives, to conform us into the image of Christ. Even though we are seeking to trust God through these times, we may feel like a spiritual caterpillar that He is transforming into a butterfly. Try to relate what you feel to the picture of the dissolved caterpillar:
1. Confused, chaotic, floundering
2. Purposeless, directionless, unproductive
3. Disconnected, isolated, lonely
4. Life and circumstances out of control

These feelings can be very painful, but keep trusting God, resting in His ability to transform you, even when you don't know what He is doing or how He is doing it. Let Him give you insights from His Word about the changes He wants to make in you. As you cooperate with Him, the truth will set you free and transform you into a more beautiful and productive child of God (Romans 8:29).
~Written by Linda Simmons (wife of Doc Rock)